NSBC Instructor Certification
Train-the-Trainer Model
The National Safe Boating Council Instructor Certification course is a train-the-trainer model. Instructor candidates will train with a NSBC Certified Instructor Trainer in a ratio of one (1) Instructor Trainer to four (4) Instructor Candidates. Over a 3-day training period, the candidates will learn the NSBC Boat Control On-Water Training curriculum; the training program progresses from close quarter maneuvers at idle speed, to maneuvers in displacement mode, and advanced open water maneuvers on the final day. The candidates will first demonstrate the skill as they rotate turns at the helm; under the direction of the Instructor Trainer, each candidate must demonstrate each skill as outlined in the curriculum. When each candidate has successfully performed each skill in close quarters and open water, the candidates will then teach the curriculum to each other. This final step demonstrates that the candidates can not only perform the skill / maneuver, but they can teach it.
Upon successful completion of the course, the candidate becomes a NSBC Instructor that is certified to teach the NSBC Boat Control On-Water Training curriculum to students. The students can be: recreational boaters who need boat handling training, teens aged 13 – 19 (the NSBC teen program is Skipper Club), or for agencies – new hires that need to learn to operate the boat.
Materials
NSBC Instructor Training Manual (provided)
Course Schedule
Day 1: Approx 2 hours in classroom, remainder of day 1 on the water
Day 2: On water
Day 3: On water
Vessel
A center console boat under 26' is the preferred vessel. If the NSBC Instructor Trainer is working with candidates who are first responders, it is preferred to use their work boat (i.e. patrol boat, fire boat, or other).
Notes
*NSBC Instructors must maintain their membership with the NSBC and adhere to the policies and procedures as outlined in the NSBC Instructor Policy Manual.
*Only a certified NSBC Instructor Trainer can certify an Instructor.
*NSBC Instructors can teach recreational boaters or agency employees who may receive a certificate of completion when successfully completing the course; however, they are not certified to teach.
Course Verification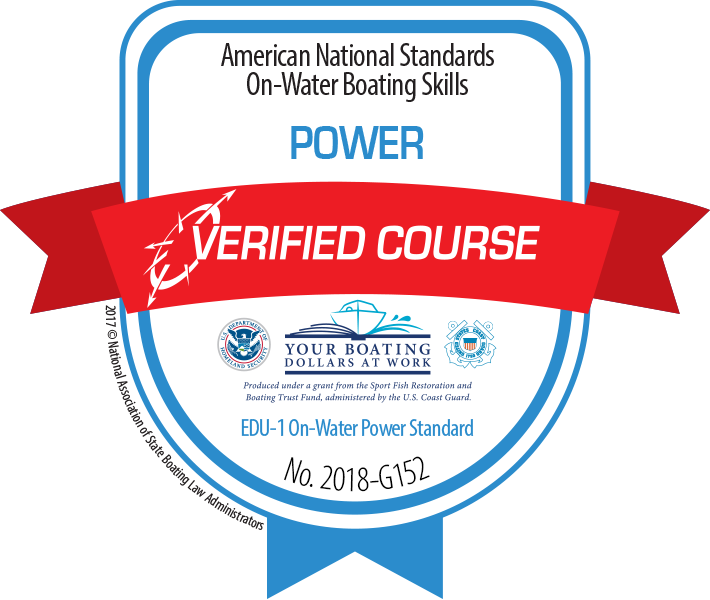 The content of this course conforms to the American National Standard for on-water skills as verified through an independent third-party assessment process. It is imperative that the curriculum is adhered to; there can be no modifications or variations as that would change the course verification.
Recognized by the American National Standards Institute as American National Standards, the On-Water Power, On-Water Sailing, and On-Water Human-Propelled standards identify fundamental skills that entry level recreational boat operators should be able to demonstrate after receiving instruction. More information about these standards can be found at www.abycinc.org or www.usnows.org.
Course Availability
Eligibility
Candidates must be approved by the NSBC before being considered for a course.