The National Safe Boating Council (NSBC), a national catalyst for recreational boating safety, recognized Captain Chris Day with the 2023 Silver Schooner Award, honoring those with significant contributions to the Council. Captain Day was honored at the International Boating and Water Safety Summit in Little Rock, Ark. on April 17, 2023.
Captain Day has been instrumental in the growth of the NSBC's on-water training program. He is a NSBC Instructor Trainer, the Council's highest level of certification, training recreational boaters and instructor candidates to be safe and confident boaters. He has worked alongside the NSBC for six years, successfully training recreational boaters and NSBC certified instructors.
"At the NSBC, we are thankful for Chris' continued support of the NSBC training and outreach programs," said Peg Phillips, executive director of the National Safe Boating Council. "He faithfully steps up to support the Council and has a strong passion to grow a generation of responsible boaters."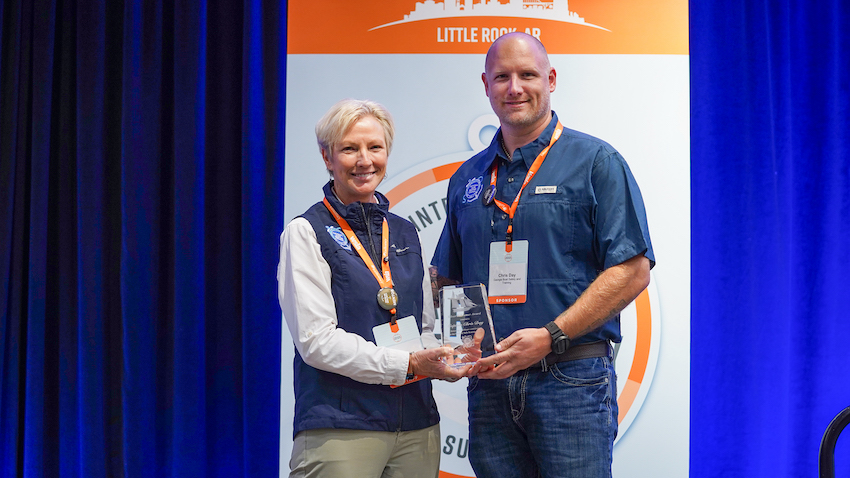 Captain Day started his on-water career after spending 11 years in law enforcement criminal interdiction. He started Georgia Boat Safety and Training in 2016 with a target audience of public safety professionals, training several agencies in boat operations in Georgia. Chris owned TowBoatUS Lake Allatoona (Georgia) from 2018-2023, and moved to Alabama as the owner of TowBoatUS Lakes Weiss, Neely Henry, and Logan Martin. Captain Day is located in Southside, Ala., and owner of Marine Demolition and Spill Response.
He serves on the CPORT Board of Directors and is the Chairman for the Programs and Education Committee. He also serves on the U.S. National Water Safety Action Plan life jacket focus group. His boating experience expands from near coastal to inland waters, working in both the private and government sectors.
The Silver Schooner Award was established by the United Safe Boating Institute (USBI), and the NSBC continues the legacy by honoring those with significant contributions to the Council. The award may be given to individuals, organizations, commercial concerns, governmental agencies and public and private clubs. Learn more at https://www.safeboatingcouncil.org/about/silver-schooner-award/.