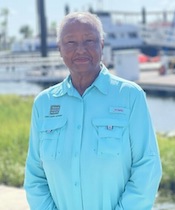 The National Safe Boating Council (NSBC), a national catalyst for recreational boating safety, inducted Mary Carrier into the Boating Safety Hall of Fame, the organization's most prestigious award recognizing those who provided vital leadership in making our waterways safer throughout their career.
Carrier has been instrumental in developing and implementing various components of boating safety programs to advance boating safety throughout the nation and the state of Texas. Carrier served in the United States Army for over twenty years and completed her career as a Training Advisor at Fort Shafter, Hawaii. After retiring from active duty, Carrier used her leadership skills and commitment to boating and water safety to develop outreach programs and hands-on training for recreational boaters.
"Mary has been an agent for change throughout her career," said Stu Gilfillen, chair of the National Safe Boating Council. "Her induction into the Boating Safety Hall of Fame is a reflection of the trailblazer she is in every aspect of what she does – and on behalf of the entire board of the National Safe Boating Council, welcome!"
Carrier has made a nationwide impact through involvement with national entities, including the U.S. Coast Guard Auxiliary, American Canoe Association, National Association of State Boating Law Administrators (NASBLA), National Safe Boating Council, and Safe Kids, as well as local organizations including Galveston Bay Sail & Power Squadron, The Single Sailors Association, The Texas Drowning Prevention Alliance, Coastal Brigade, and others.
She served as a NASBLA Charge Leader and was instrumental in efforts to build and update the boating safety dashboards on mandatory education and state reciprocity, which illustrate when a valid boating certification in one state is accepted in another state.
Since Carrier joined the U.S. Army at the age of 18, she has been a trailblazer for women.
"With courage, determination, and perseverance, Mary has renounced stereotypes and excelled in professions that have traditionally been the province of men." said Peg Phillips, executive director of the National Safe Boating Council. "Of the 46 people that have been inducted, only 5 were women and none – until now – were people of color."
The NSBC's Boating Safety Hall of Fame was established in 1995 and recognizes individuals who have made, or continue to generate, substantial and lasting contributions toward the advancement of recreational boating safety. Learn more at https://www.safeboatingcouncil.org/about/boating-safety-hall-of-fame/.