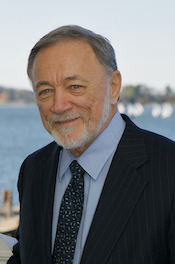 The National Safe Boating Council (NSBC), a national catalyst for recreational boating safety, inducted James Muldoon into the Boating Safety Hall of Fame, the organization's most prestigious award recognizing those who provided vital leadership in making our waterways safer throughout their career.
Muldoon was a key contributor to the development of the U. S. Coast Guard's Strategic Plan of the National Recreational Boating Safety Program. He advised the U. S. Coast Guard and its Boating Safety Division that on-water skills-based training was necessary to increase safety and reduce accidents and fatalities.
"Mr. Muldoon's work has left an indelible mark on the recreational boating and marine industries," said Stu Gilfillen, chair of the National Safe Boating Council. "His leadership and advocacy resulted in the development of the National On-Water Standards, which all boating organizations and boaters are benefiting from today."
As the chair of the National Boating Safety Advisory Council (NBSAC) for 11 years, Muldoon's leadership advanced NBSAC's ability to contribute to U.S. Coast Guard initiatives that support boaters around the country. Under his direction, NBSAC established permanent liaisons with two other U.S. Coast Guard Councils (Commercial and Towing), increased cooperation, and expanded implementation of safety measures for all boaters.
He has also been recognized by almost every major organization in the boating safety community for his outstanding contributions. For decades, Mr. Muldoon has supported boating safety education and training opportunities at the national and grassroots levels. He was a key player in the development and funding approval of US Sailing's national keelboat training and certification program. Over 35 years ago, he founded the Brendan Sail Training Program for Youth with Learning Differences to boost self-confidence and personal growth in children with learning differences.
"Mr. Muldoon exemplifies the passion for boating safety that the National Safe Boating Council looks for in a Boating Safety Hall of Fame inductee," said Peg Phillips, executive director of the National Safe Boating Council. "He has dedicated his career to making our waterways safer and is worthy of joining the elite group of 47 hall of fame members."
Muldoon has served as CEO and founder of METCOR/LSI since 1979, which provides specialized procurement-related and customized learning solutions and services to federal and corporate clients in the high technology/emerging market arenas. His early experience working for a U.S. Senator on Capitol Hill laid the foundation for his continued success in advancing boating safety issues.
The NSBC's Boating Safety Hall of Fame was established in 1995 and recognizes individuals who have made, or continue to generate, substantial and lasting contributions toward the advancement of recreational boating safety. Learn more at https://www.safeboatingcouncil.org/about/boating-safety-hall-of-fame/.