Professional Development
Watch on-demand videos and earn CEUs
Earn Continuing Education Units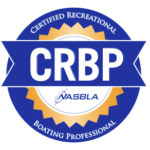 The NSBC is a Certified Recreational Boating Professional (CRBP) approved course provider, supporting the voluntary credential for recreational boating professionals developed by NASBLA. Learn more about CRBP.
Earn continuing education units by watching these on-demand videos. Please contact the National Safe Boating Council for a competition certificate. 1 video = 0.1 CEU
On-Demand Videos
CRBP Domain 1: Management, Leadership, Ethics and Character

Say What? Tips and Tricks for Connecting and Communicating | 1 CEU

Do you feel like you are trying your best to communicate, but no one seems to understand you? Miscommunication and an absence of understanding can result in problems large and small. Join longtime conference speaker Glenn Anderson on a journey to connect and communicate more effectively. Glenn has been communicating all his life as a corporate instructor and speaker, and part-time improv actor. He will share his ideas and tips in this entertaining and useful session.
CRBP Domain 3: Boating Laws and Compliance

Keeping Inflatables in Lifesaving Condition | 0.75 CEU
Since the introduction of U.S. Coast Guard approved inflatable life jackets over 25 years ago, tens of thousands of boaters have relied on them to provide life-saving buoyancy after an unexpected immersion when on the water. While the in-water performance and freedom of movement make inflatable life jackets a popular choice for anglers, paddlers, and sailors, they require some understanding about their operation and maintenance to fulfill their missions at life-saving gear. In this presentation, noted safety expert Chuck Hawley will describe how to keep your life jackets in lifesaving condition.
CRBP Domain 6: Boating Safety Marketing, Outreach and Public Relations

2019 Special Report on Paddlesports and Safety | 0.50 CEU

Carrie Schlemmer and Kelsey Bracewell with the American Canoe Association, share insights about paddlesports in the ACA's 2019 Special Report on Paddlesports and Safety, produced under a grant from the Sport Fish Restoration and Boating Trust Fund, administered by the U.S. Coast Guard. This report is valuable in marketing, outreach, and public relations efforts to reach the paddling community.