Saved by the Beacon
406 MHz beacons save lives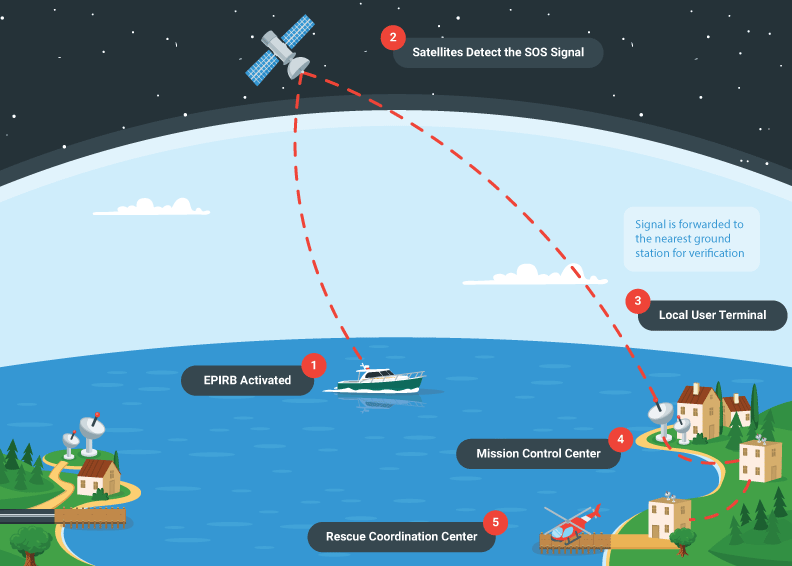 About Saved by the Beacon
Imagine you're away from the coast, you don't even see land anymore. Even worse, imagine that your boat is now taking on water and you don't have cell phone reception. What do you do? The NSBC's Saved by the Beacon national campaign educates recreational boaters about the importance of 406 MHz beacons and how to use them correctly in the case of a boating emergency.
An emergency locator beacon is used to alert Search and Rescue assets by transmitting a coded message on the 406 MHz distress frequency via satellite to the nearest Rescue Coordination Center.
Boaters mount an Emergency Position Indicating Radio Beacon (EPIRB) which is registered to the vessel, waterproof and may be manually or automatically activated.
Personal Locator Beacons (PLB) are registered to the person, may be operated on land or water, and must be manually activated with the antennae out of the water with a clear view of the sky to properly function.
All emergency locator beacons must be registered with the National Oceanic and Atmospheric Administration prior to use (remember to update as needed!).
How EPIRBs Work
Boater in distress activates 406 EPIRB.
EPIRB's repeating SOS signal is detected by earth-orbiting satellites.
Signal is forwarded to ground station for verification.
Ground station notifies central command (MCC) to initiate search and rescue.
MCC notifies the Coast Guard or the Air Force Rescue Coordination Center (RCC) nearest to the boater's location.