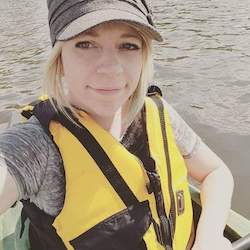 The National Safe Boating Council is excited to welcome Alexis Webb as program coordinator! Colorado natives, she and her husband have three children and live (and play) in Fort Collins, CO. Alexis is one of two NSBC team members in Northern Colorado. She works closely on NSBC's social media efforts, and provides program support for Get Connected, International Boating & Water Safety Summit, Safe Boating Campaign and Waves of Hope. She began working with NSBC in January as a contractor, and was such a great fit, recently officially joined the team! Get to know Alexis.

Q: What's your favorite boating activity?
I'm super new to it, but I absolutely love kayaking. I suffered a grade 3 ankle sprain early in the summer (hello 2020!), but my plan before this had been to get out on the water and learn more. I am a life-long learner! I grew up near Horsetooth Reservoir, and inherited my Dad and uncles' love of the outdoors. Growing up, someone was always taking the boat out.

Q: What do you love most about living in Colorado?
If I tell you, you'll move here! I love that we get to experience all four seasons; I love the mountains, the schools, that we're minutes from lakes, hiking spots and our town's "Old Town" (which, kind of cool, was Walt Disney's model for Main Street USA in Disneyland). I love our people, and that there is something for everyone here. College kids, foodies, outdoor enthusiasts (especially outdoor enthusiasts!) and retirees all call Fort Collins home. That's my hometown. I can't see you, but you're looking at real-estate, aren't you?

Q: What is your favorite part of working at the NSBC?
My favorite part of working at the NSBC is that it's truly meaningful work. The barometer for whether or not we are successful is whether or not we are saving lives. That drives the work, and that resonates with me. I believe life is a gift.

Q: If you could only eat one meal the rest of your life, what would it be?
This question is harder than the Colorado question! Seriously! Sophie's Choice over here. For the rest of my life, it would probably have to be tacos, loaded with plenty of guac and a side of CO green chili, or anything breakfast related, or why not, it's the rest of my life – both. A close second though would be any dessert or sushi.

Q: What are your favorite things to do with your family?
We love getting outside with the kids, walking or biking around the neighborhood, going hiking, camping, boating "on Grandpa's boat," or just throwing around a frisbee. We are movie people so going to movies and having weekly movie nights (with plenty of popcorn and candy) are also a must. We also play a lot of board games and video games, routinely eat cake for breakfast, and start most days with a dance party in the kitchen.